Aritzia. Anthropologie. Cosmo. Everlane. Refinery29. Reformation. Variety. Vogue. Walmart.
These are just a handful of brands called out recently for their performative displays of solidarity with the #BlackLivesMatter movement. Many were called out by past employees who revealed the hypocrisy in their external messages. The shocking stories I read around these brands' actions and the fallout from the general public left me asking myself three questions; "to what extent are brands responsible for social change?" , "would these call-outs be happening if they weren't putting on performative displays, or is this a societal expectation of brands regardless?", and lastly, "will call-out culture fizzle out or continue to gain popularity?"
In my research for answers, I discovered an extremely interesting stat: "53% of consumers believe brands can do more to solve social problems than governments". I then turned to Instagram to see what my own network believed (many of whom are not in the marketing industry), and surprisingly, 75% agreed this to be true as well.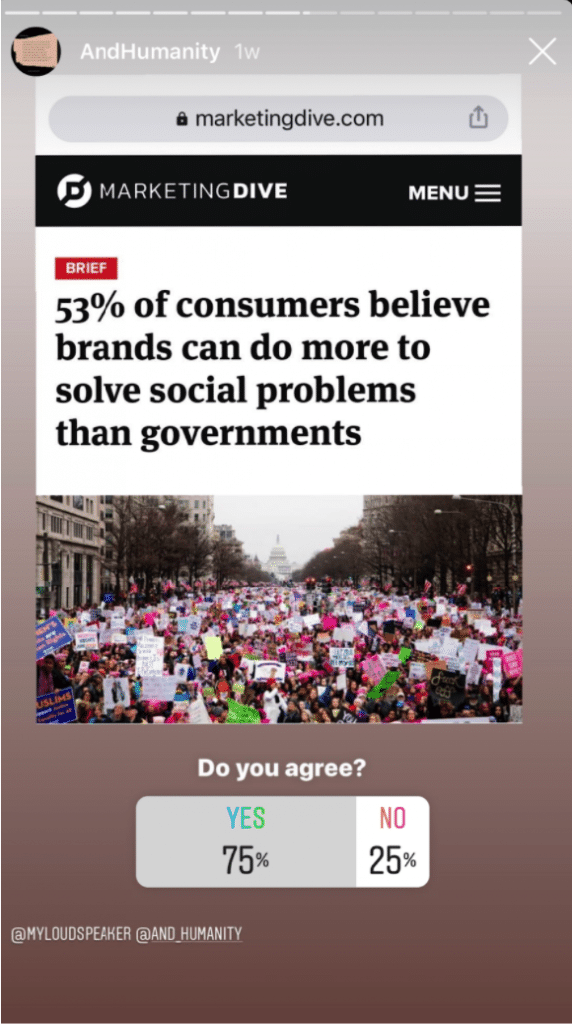 At first, I wondered whether these results came from a lack of belief in the government or an optimistic belief in brands, but I realized it doesn't matter, because – either way – there now seems to be an expectation for brands to contribute to a better world – whether they like it or not.
We've already seen some of the responses from brands – some good, some not – but the point is that people are watching more closely now (shout out to the hard work put in by pullupforchange), and based on what we've seen thus far, it doesn't seem like this is going away anytime soon.
So to all the brands reading this, it's your responsibility now. The rising popularity of call-out culture means that your consumers are expecting you to demonstrate your inclusivity – both internally and externally. And as you can imagine, there is a lot to unpack here, so our team put together a Live "Ask-Me-Anything" for our "Creatives for Inclusion" Facebook Group, featuring our very own Co-Founder, Tammy Tsang, as well as Diversity and Inclusion Experts Amil Reddy and Adeline Huynh. In this event, we broached this topic of brands and call-out culture, and covered everything from the "why's", the "who's", and the "how's" for brands in these unprecedented times. We hope you find it valuable!
If you don't have time to watch the whole thing, below are 5 of our favourite questions from the AMA. We suggest skipping ahead to the listed time stamps to hear the answers.
15:35 – "Is it about having diverse faces in upper management or people that 'get it' more important?"
35:30 – "What steps can smaller brands/companies take if they are being called out, apart from apologizing? Since they may not have the capabilities to take big actions."
38:43 – "What are some real commitments that creatives can make during this – whether you're in the marketing department or not?"
47:05 – "What are a large brand's responsibilities to society vs. what is good for business? Example of Nike – championing D&I with Kapernick campaign vs. ongoing sweatshop labour conditions. Can we applaud a brand based on its response to current news or should they be judged based on their record as a whole?"
55:01 – "I feel that most of the brands realize the importance of allyship. But, many brands are afraid to initiate the same, because they are scared of getting accused of woke-washing. Are there any ways in which brands can initiate this process more safely and naturally?"
For those interested in participating in similar events in the future, please join our "Creatives for Inclusion" Facebook Group. We'll be happy to have you!